Immigration Attorneys Dallas, TX
Founder, CEO | Principal Attorney
Founder and managing partner of Law Offices of Erika N. Salter, P.C., Erika N. Salter is one of the most highly sought and highly regarded immigration attorneys in Dallas, TX. She has earned a reputation of being the most knowledgeable and reliable immigration attorneys in Texas. With a success rate of more than 90% positive resolutions, her Dallas and Ft. Worth firms are honored to provide excellent services in the most complicated areas of criminal, immigration and naturalization law. She is especially renowned in the areas of obtaining lawful status, cancellation of removal, citizenship, political asylum, green card applications and general immigration issues.
Criminal Attorney, Dallas TX
Earning the reputation as one of Dallas's top defense lawyers, Kathryn McNeil defends her clients with zeal and a strong will to win. Whether the case is a felony or misdemeanor, she approaches each case with the same level of professionalism and determination to have a successful outcome. She is well on her way of becoming the most sought after criminal attorney in the Dallas Area.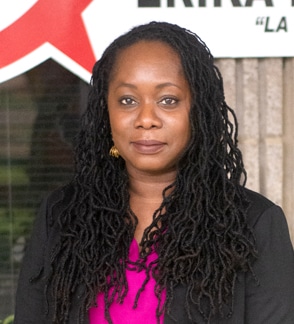 Immigration Attorney, Dallas TX
Dallas Immigration Attorney, Mamei Baker was born in Illinois but raised in England where she practiced Immigration Law for 11 years before emigrating to Texas.  After obtaining a Bachelor of Arts Degree in English Language and Literature, she studied Law at Kingston University, England and The College of Law, Guildford, England.  When she moved to Texas, she completed an International Master of Laws degree at Southern Methodist University, Dallas before taking the Texas Bar Exam. 
Immigration & Criminal Defense Attorney
Luke has worked in the employment-based immigration sector representing clients in immigrant and non-immigrant matters to obtain work visas, lawful permanent residence, and citizenship.
Immigration Attorney, Dallas TX
Diana was born and raised in Dallas, Texas. She attended Texas A&M University where she earned a Bachelor of Science degree in Economics. In 2017, Diana started law school at St. Mary's University where she received her Doctor of Jurisprudence.
Associate Attorney, Bilingual in Spanish and English
Alonzo lived most of his life on the Mexico/U.S. border, which allowed him the opportunity to see and experience firsthand the struggles and hardships immigrants face every day.